OUR SOCIAL RESPONSIBILITIES AND SPONSORSHIPS
INTERNSHIP AT TALENT FOCUS
Talent Focus provides sponsorships, but more importantly, an internship program where we take on board young talent from Macquarie University and give them valuable experience across all sectors within the business.
We take a personal interest in their future ambitions and form a partnership with them to achieve beyond what they thought possible. We are big believers that real results is a direct outcome from thriving in a nurtured environment where workmates feel like family.
Relationships is very important to us and we value our clients and candidates just as much as we value our employees. Our track record has produced numerous success stories – all stemming from this very humble internship initiative. 
You can find out more about our internship programs here.
You can listen to some of our past interns Blake Hunt and Dominic Fauvette  in these videos below :
THE LUCY MENTORING PROGRAM – MACQUARIE UNIVERSITY
"Lucy Mentoring Program" is an innovative leadership program for women students in the Faculty of Business and Economics at Macquarie University. It aims to encourage the development of women who, given the right opportunities and support, will become our future leaders. Achieved by establishing relationships between students and mentors who are working as professionals. Mentors are generally senior executives from the public, private and not-for-profit sectors.
Talent Focus, director Stephen Ibbotson has been mentoring a bright young student Jeannie Giakoumis who is currently completing her degree in HR & Marketing. Informal conversations on previous experiences around prepared questions and relevant topics over coffee. Stephen will also help Jeannie achieve some of her professional goals in leadership and career outlook.
MODERN SLAVERY & HUMAN TRAFFICKING
STATEMENT
Modern slavery is a heinous crime and a morally reprehensible act that deprives a person's liberty and dignity for another person's gain. It is a real problem for millions of people around the world, including many in developed countries, who are being kept and exploited in various
forms of slavery. Every company is at risk of being involved in this crime through its own operations and its supply chain.
At Technical Focus Pty Ltd, we have a zero-tolerance approach to modern slavery and are fully committed to preventing slavery and human trafficking in our operation and supply chain. We have taken concrete steps to tackle modern slavery, as outlined in our statement. This statement sets out the actions that we have taken to understand all potential modern slavery risks related to our business, and to implement steps to prevent slavery and human trafficking during the financial year 2020 – 2021
You can access our full statement here: Modern Slavery & Human Trafficking Statement 2020-2021
COUNTRY EDUCATION FOUNDATION OF ORANGE
We'd like you to meet Annalise Theakstone, a recipient of a Country Education Foundation of Orange grant co-funded by us at Talent Focus. Annalise, from Orange NSW, is about to begin a psychology degree at Macquarie University – a university we have a long history and many connections with through our internship program and sports sponsorships.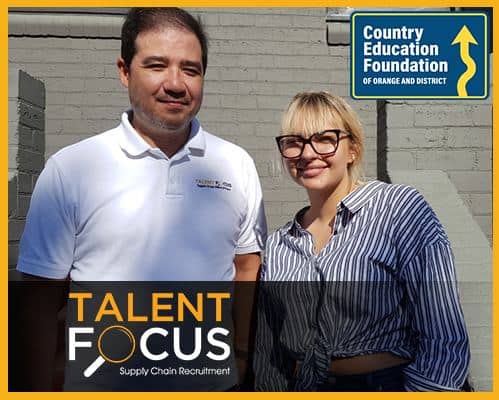 "At Talent Focus we value higher education and supporting others. The Talent Focus team wanted to contribute financially to someone in need, and we feel the Country Education Foundation is a perfect model to connect directly with young people who want, and need, a hand. When I mentioned the idea to my co-director, Stephen Ibbotson, he was 100% behind the idea so we ran with it," shares Director Luke McDonald, who is based in Orange with his wife and young son.
"Luke was lovely, and he said he is keen to follow up with me in the future. He wants me to smash it. It felt like meeting a mentor or a friend for the first time," Annalise said. "For me it means support, support I didn't have before. I feel CEF and Talent Focus – not just my family or friends – care about my future. For me it's not just about the money, meeting them was wonderful and I know I have a team of people behind me believing in my abilities."
We wish you luck Annalise!
CEF Orange is one of 44 Country Education Foundation of Australia local foundations throughout NSW, QLD, SA and NT. The Country Education Foundation of Australia is a not for profit organisation that provides community-raised grants and scholarships to rural and regional students embarking on a tertiary education.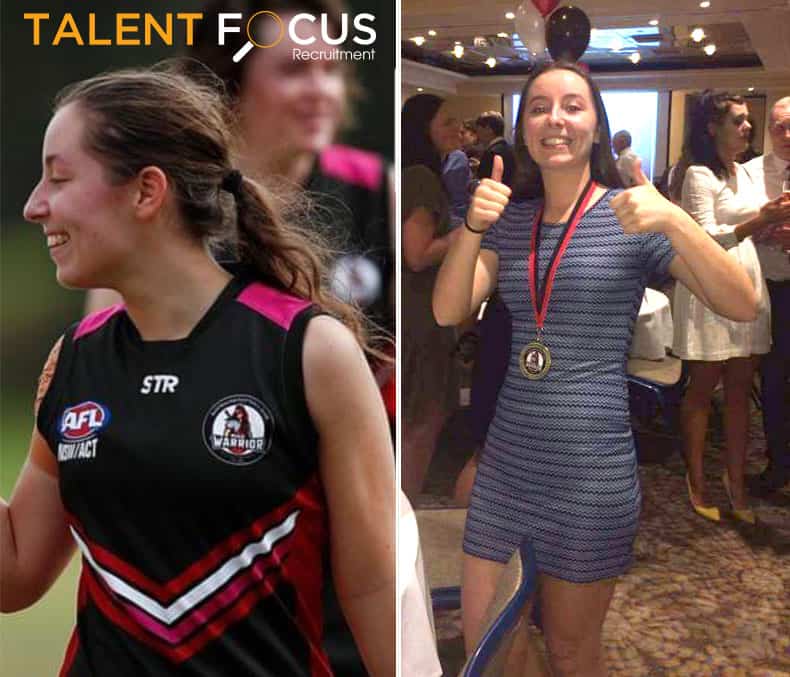 It is with great excitement that we are announcing the Talent Focus Scholarship Award 2019 winner, Annabel Ferrari.   
Annabel joined Macquarie University AFC in 2015 and later in 2017 joined the committee.  She has been on the social committee since 2017 and became Vice President of the club this year (2019).  Her main focus at the club has been on player welfare, social functions and overseeing all aspects  of the women's side of the club.
While studying postgraduate medicine, Annabel has played 72 games for Macquarie Uni and kicked 31 goals.  We are proud and honoured to present her with the Talent Focus Scholarship Award 2019. 
Well done Annabel! 👏👏👏