We love getting feedback from our clients and candidates!
Anthony Williams
"Was contacted by 2 of the guys from Talent Focus about a role that Lyndsay was managing. I must say, Lyndsay is a cut above other recruiters I've worked with in my 20+ years in HR. She provides honest feedback, gets back to you when she says she will, takes an interest in you and your career. Turns out I didn't get the role….I didn't have to chase Lyndsay to see what was going on…unlike others that just don't return your calls.
All the people I have met from Talent Focus appear to be cut from the same cloth as Lyndsay – I'd highly recommend them to both candidates and businesses looking to hire."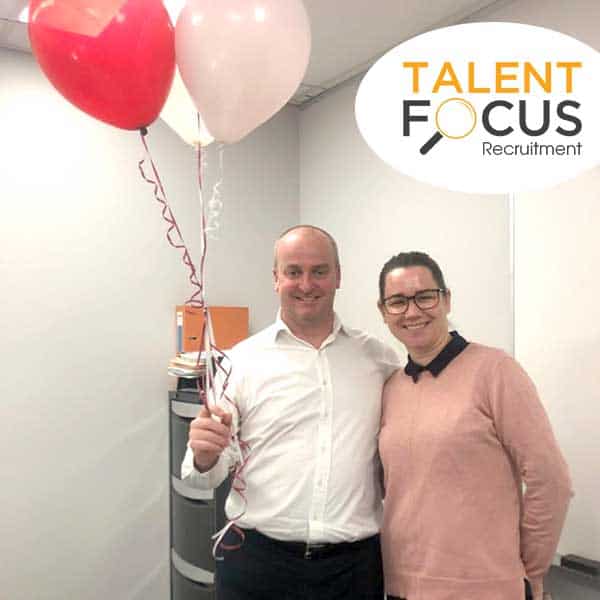 Matt Shir, Hunter Douglas
"My experience of working with Luke was exceptional. From initial contact until he successfully placed me into role, he consistently supported me in my application. He went above and beyond to ensure I was prepared for interviews and provided an approachable but professional service. Highly recommended."
Aizella Coleen Campillanos
"I really appreciate Luke's assistance in securing me a role aligned to my career plan. Throughout the recruitment process, Luke has provided timely updates and support. Thanks again Luke and great job!"
Jannine Too
"When I had a recent LinkedIn in view from Luke at Talent Focus I jumped onto their page to see a job that I felt I was a good fit for. I contacted Luke and sent my resume. Within a day the consultant contacted me and came out to my area for an interview which was indeed a blessing. Most companies want you to go to them. The consultant gave me the confidence to have a great interview with the company leading to a successful outcome and helped negotiate a great offer I highly recommend the team at Talent Focus."
Daniel Clampett, AstraZeneca
"I have worked with Luke on both sides of the fence – as a hiring manager and as a candidate myself. Luke is personable and honest, and maintains clear and timely communication through the recruitment process. As a hiring manager, Luke has provided me with quality candidates every time I have had a vacancy."
Donna Roberts
"I found Luke From Talent Focus to be very thorough and genuine in his approach. He followed up on my requests and ensured I had the answers I required when going through the recruitment process. Highly recommend the team at Talent focus and very grateful for Luke's care approach and great service. Safe to say I was successful in the role and currently enjoying my new position! Thank you Luke for your help with everything and making what can be a tedious process seamless."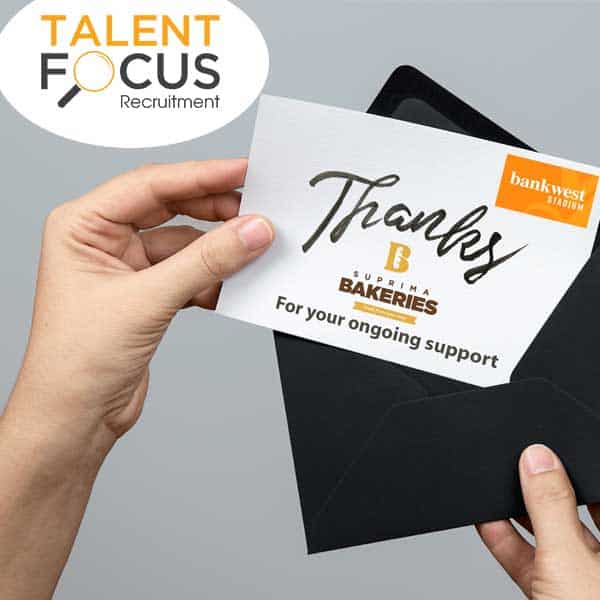 Bev Bezuidenhoud, Suprima Bakeries
"Thanks so much for the professional assistance throughout the process. Lyndsay's personal care is what makes the difference i.e. I never felt like I was just a number – which is what one feels when dealing with the "bigger" agencies."
Peter Nguyen
"Talent Focus definitely stands out from the rest, my experience with one of the agents there (John Hallatt) would have to be the smoothest job transitions ever, John gave me all the information I needed for the role and was very detailed leading up to the Job interview I was applying for. Would highly recommend this team of professionals."
Irene Haimovich, GSK
"I had the opportunity to work with Luke as candidate and hiring manager. Luke is personal and focused to achieve the best outcome for the candidate and his customer, providing the support and motivation for the candidate. As hiring manager Luke had introduced me to high quality candidates that met all our requirements in the agreed timelines. Luke always continues to follow up to ensure both the candidates and the company are satisfied with the results. I highly recommend Luke and I thank him for all his support."
Bruno Freitas
"My consultant from Talent Focus was able to clarify and help me throughout the process of applying and being interviewed for a new job. I totally recommend Talent Focus to anyone who is currently looking for a job."
Jerry, Candidate
"I first met with John around 4 years ago when I was looking for driving work. It was clear straight away that John worked differently to every other agency – he took the time to discuss what I was looking for and found me a job almost immediately. Four years later we are still working together because John never fails to deliver."
Scott Tyler, Quality Assurance Director - ALDI Stores Australia
"Stephen is often the first person I call when I'm looking to fill a role. His experience within the Food industry is highly valued. I've found Stephen to be an astute advisor and someone of high professional standards. I have no hesitation is recommending Stephen to others within the industry."
Nadine Rilles
"It was really an absolute pleasure working with Luke. He was quick to understand the kind of role I was looking for, recognizing my strengths and interests as well as relating my past work experiences with the role. He was very supportive and motivating throughout the process. I am really grateful to him for being able to assist me in getting the job that I really like! I wouldn't hesitate to recommend Talent Focus when recruiting new staff or looking for a career change."
Max Kindred, Hunter douglas
"Luke was really good. He was quick to react when I sent him my CV. He kept me in the loop about my application at all stages with good communication and was helpful with snippets about the company to help me with interview preparation."
Michael, State Manager
"John has taken the opportunity to understand our business, culture & standards in order to provide the most appropriate staff to meet our needs. We are always kept informed of the progress with any of our available positions that John is working to fill & he always ensures only applicants who fit our requirements are put forward."
Karen Barber
"I highly recommend Talent Focus. They contacted me regarding a position I had applied for. The consultant was very positive and helped me to prepare for the interview. Best of all, he followed up with me regularly to keep me updated on the process."
Simon North, Director of Quality
"I recently had the pleasure of speaking to Stephen whilst researching job opportunities in the Sydney area. Stephen really took the time to talk to me, explain various topics and came across as a genuine and knowledgeable person. He went the extra mile to ensure I had all I needed and offered to help with advice at any time in the future. If first impressions count, then this made a significant impact!"
Want to have your say?
Drop us a line below
Suite 1.16, Level 1 Nexus Building
4 Columbia Court, Norwest Business Park, Baulkham Hills, NSW 2153